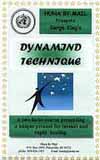 Part of the Kahili Healing Course
THE DYNAMIND TECHNIQUE, by Serge Kahili King, Ph.D.

Filmed live at one of the first workshops on Kauai. Watch people healing themselves with this absolutely fantastic technique for super-fast relief of pain; physical, emotional and mental distress, and many kinds of illnesses and functional problems.

Learn how to combine the power of breath, the power of words, and the power of touch for helping yourself and the ones you love.