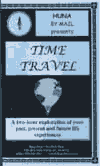 Video Download $35.00

DVD $49.95

TIME TRAVEL, by Serge Kahili King, Ph.D. 2-hours. All-region DVD version includes shipping.

This exciting workshop introduces you to "King's Helicopter Theory of Time", teaches you how to be your own spirit guide, and demonstrates techniques for exploring past, future and parallel lives.

This video is also inlcuded in the Psychic Development Home Study Course.