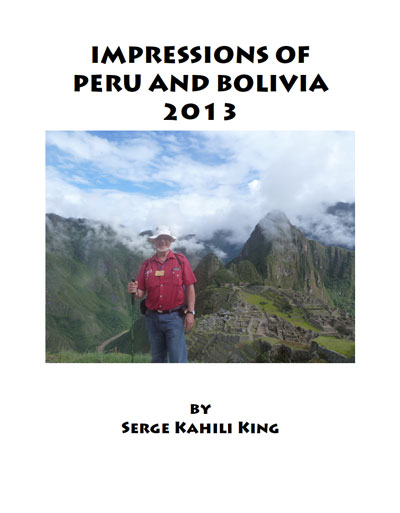 This is a journal of a trip with Vantage Tours to Bolivia and Peru in February and March of 2013 by myself, my wife Gloria, and our colleagues and friends Susan Pa'iniu Floyd and Sharon Malie Montgomery. Almost 500 photos are accessible from the links at the end of each day's journal from the date of arrival in Bolivia. Featured in this travelogue are:
La Paz, capital of Boliva at an altitude of more than 10,000 feet.
The Witch's Market.
Tiwanaku, ancient ruins of master stoneworkers.
Lake Titicaca and its sacred islands.
Shaman rituals.
The Uros people who live on reed rafts.
The lost city of Machu Picchu.
Cusco and the Saqsaywaman Fortress.
...and much, much more.