TECHNIQUE BUNDLE #1

Six separate techniques in PDF format by Serge Kahili King: $10.00 (download only)

---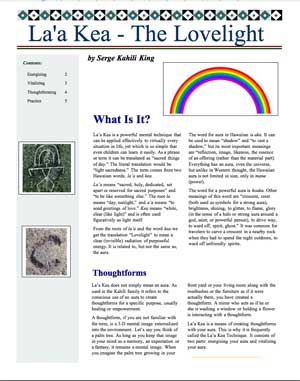 One of the most popular techniques in the Huna repertoire, La'a Kea is a way of turning your aura into a thoughtform generator. This guide covers the Hawaiian concept of the aura, the nature of thoughtforms, and the creation of thoughtforms for helping and healing yourself and others using color, creatures, objects and environments.
---
Amazingly simple and amazingly effective at the same time. In this booklet you will learn how to use the technique for relaxing, energizing, self healing, self esteem, empowerment of yourself and others, distant healing, meditation and coaching.
---
A wonderful way to help with the healing of yourself and others. In his illustrated technique booklet entitled "Sea Crystals," Serge Kahili King gives the scientific basis for understanding that sea shells are actually organically-grown crystals, and he tells you exactly how to use them for healing. The photo below the booklet image shows the kinds of shells that can be used.
Excerpt from the booklet: "This report was inspired by my good friend, Lin Hansen, who wrote a booklet called Shelldance: A Guide To The Healing Energy Of Shells" in 1994 (now out of print). In workshops and in private sessions Lin taught me how to become aware of the energies of different shells and how to arrange shells in different patterns on and around the body to assist healing and personal development. Lin opened my eyes and other senses to possibilities I had never imagined."
Due to high postage costs we no longer supply shells. We suggest you find an alternate source for the recommended kit shown in the photo on the last page or use shells from your own collection.
---
A Manual For Optimizing Human Central Processing Unit Functions for technologically-minded Hunatics.
---
The amazing energy properties of sticks, rods and staves when cut to the right size.
---
How to use ordinary playing cards for divination.