Vermeil Pendant


---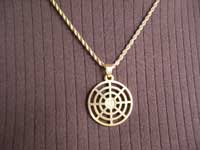 EYE OF KANALOA PENDANT (click image for a larger view)
Vermeil (18-karat gold-plated solid sterling silver): $125.00
Shipping included
This pendant is over 1" (3 cm) in diameter, finely cut to allow backgrounds to show through. Comes with velveteen pouch. Chain not included. Designed by Serge Kahili King
The Eye of Kanaloa, an ancient Hawaiian symbol of "Mana Aloha" (Loving Power) and "Aloha Mana" (Powerful Love), radiates a harmonious energy from both sides, helping you and whoever looks at it. Kanaloa was a legendary healer and spirit of the ocean who could strike a rock with his staff and cause a spring to burst forth when he walked on land. It was said that if you could look into his eye you would see this symbol and be healed. May it help to bring harmony into your life.
---
Lightning Bolt Pendant


---
KA LAPA UILA - THE LIGHTNING BOLT PENDANT (click image for larger view)
$55.00, solid sterling silver, 2" long (5cm). Chain not included. Item is shinier than larger image shows. Designed by Serge Kahili King
Lightning, usually associated with thunder, is one of the most ancient Hawaiian symbols of mana, spiritual power. Among the old gods, it was a sign of Kane the Creator, Lono of the Heavens, and Pele, the volcano goddess. Pele's younger sister, Hi'iaka, even had a magical skirt that flashed lightning bolts to protect her and her friends from monsters and evil spirits. Some Hawaiians have lightning as their family aumakua, or guardian spirit. On the back of this lightning bolt are engraved the words "Inner Power." May it bring you all the power you need for whatever you want to do.
---